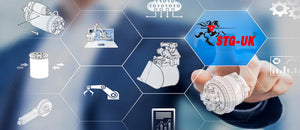 WELCOME TO OUR COMPANY
STG-UK specialises in manufacturing undercarriage parts for tracked Excavators and Bulldozers.
Our goals are not only to maintain our excellent brand in the international market but also to provide the highest quality at all times. We are not only interested in quality control but also quality improvement.
Our Uk engineers work continuously to achieve these goals. Our products including track rollers, carrier rollers, sprockets and segment groups, idler groups, track links, chains, track group with shoes, pins, bushes, bolts and nuts.